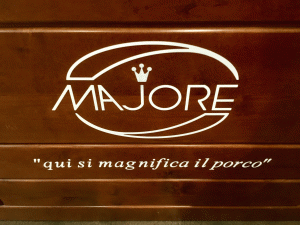 Chiaramonte Gulfi is a hilltop town known as the 'balcony of Sicily' due to its panoramic position and views north towards Etna and south to the Mediterranean Sea – I'll have to take their word for that as it was an unseasonably cloudy Sunday when we made the trip to Ristorante Majore in the town. 'Qui si magnifica il porco', (here is magnificent pork) says the motto inscribed on the small wooden counter as you walk through the front door straight into a tiny, steamy kitchen with a huge green freestanding range. Risotto is being stirred, meat fried on the counter top and the oven looks big enough to take a whole fair-sized pig.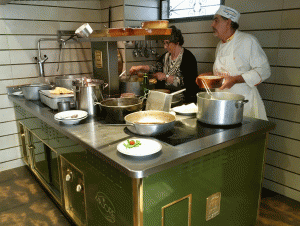 The dining room is small, rustic and cosy, filled with locals tucking in to the authentic local food and reds  from the fine wine list – 'I have all the bigs of Sicily' said the waiter proudly. The food and wine choices taken care of, it was time to attend to my other needs after the long drive up the hill – 'out the front door, down the street, left at the corner and up the stairs at no.1' were the instructions and they were right.
I've used outside loos at restaurants before, but never in a different street!
On return I found that some good bread had been delivered along with a bottle of local 'Zahara' olive oil from Oleificio Guccione. It's not often that plain bread and oil make you sit up and go wow, but this single variety olive oil is one of the best I have ever tasted with notes of green tomatoes, artichokes, pepper and mediterranean herbs with an unctuous mouthfeel and long aftertaste. I resolved there and then to seek out the producer, but that's another story.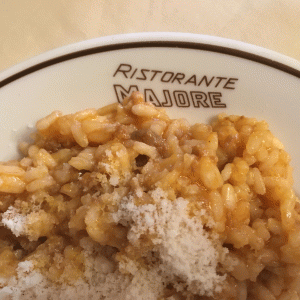 Suffice to say that we proceeded to 'pig out' on the specialty of the house having a plate of home made pork sausage, ribs and steak as a main course but my special mentions are reserved, firstly, for the Risotto alla Majore prepared with pork ragu and local cheeses from different seasons and secondly, for the most incredible fried potatoes with air trapped inside them so they puffed up like little balloons. Light fluffy and wonderful.
The (only other non-Italian) table next to us asked for coffee at the end of their meal. The smiling waiter replied ' We don't have coffee only grappa – if you want coffee there's a cafe round the corner that is good'. In other words, take us as you find us, serving quality, honest, local food served up in a good-humoured, unpretentious and authentic atmosphere (without a hint of being contrived) – a real experience.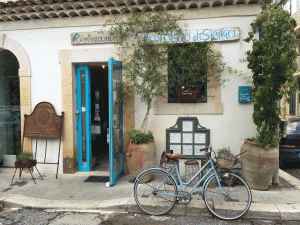 Next day the sun was shining again and it was off to the small village of Donnalucata on the south coast of Sicily and the fish restaurant, Il Consiglio di Sicilia. This is where the cast of the TV Detective series Montalbano eats when they are filming in the area. When asked which was Commissario Montalbano's (aka Luca Zingaretti) seat, Roberta the co-owner laughingly replied, 'you must be sitting in it because he has sat at every place'.
That's not so difficult to imagine as the flower and leaf covered terrace is bijou to say the least.
We started at Roberta's recommendation with an apero of sparkling rose from Cantine Russo in the Etna region – fresh, fruity with a fine mousse, highly recommended.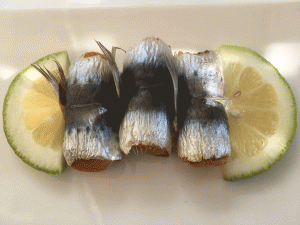 Then the food – wonderful sardines stuffed with breadcrumbs, orange raisins and pine nuts, a simple but intensely flavoured spaghetti with a shellfish butter, 'fisherman's' stew with local butterfish in a tomatoey broth and more local fish that had been massaged with Turkish spices. Each was individual, cooked with care and above all delicious. With all this we tried interesting, individual white and red wines sourced from small family producers in Sicily, including from the 'last vineyard in Donnalucata' (the others have been swallowed up by holiday developments). 
But for me the best was yet to come, dessert was a Sicilian take on Tiramisu – ricotta in place of mascarpone with Sicilian marsala, orange zest and chocolate from Modica – served in a dainty glass, it was the best version I have ever tasted.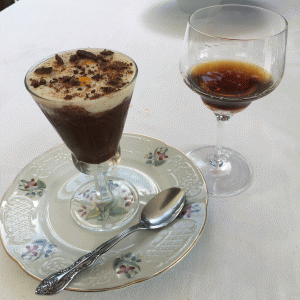 Chef Antonio came out from the kitchen to join Roberta and we chatted about food and wine. When I showed them the JMB Wine motto of 'Families not factories' they actually burst into applause as it chimes so neatly with their philosophy of using small, dedicated, local producers.
Truly a Damn Good Lunch* – no wonder Montalbano has to swim so much to keep in shape!
*DGL = my highest recommendation